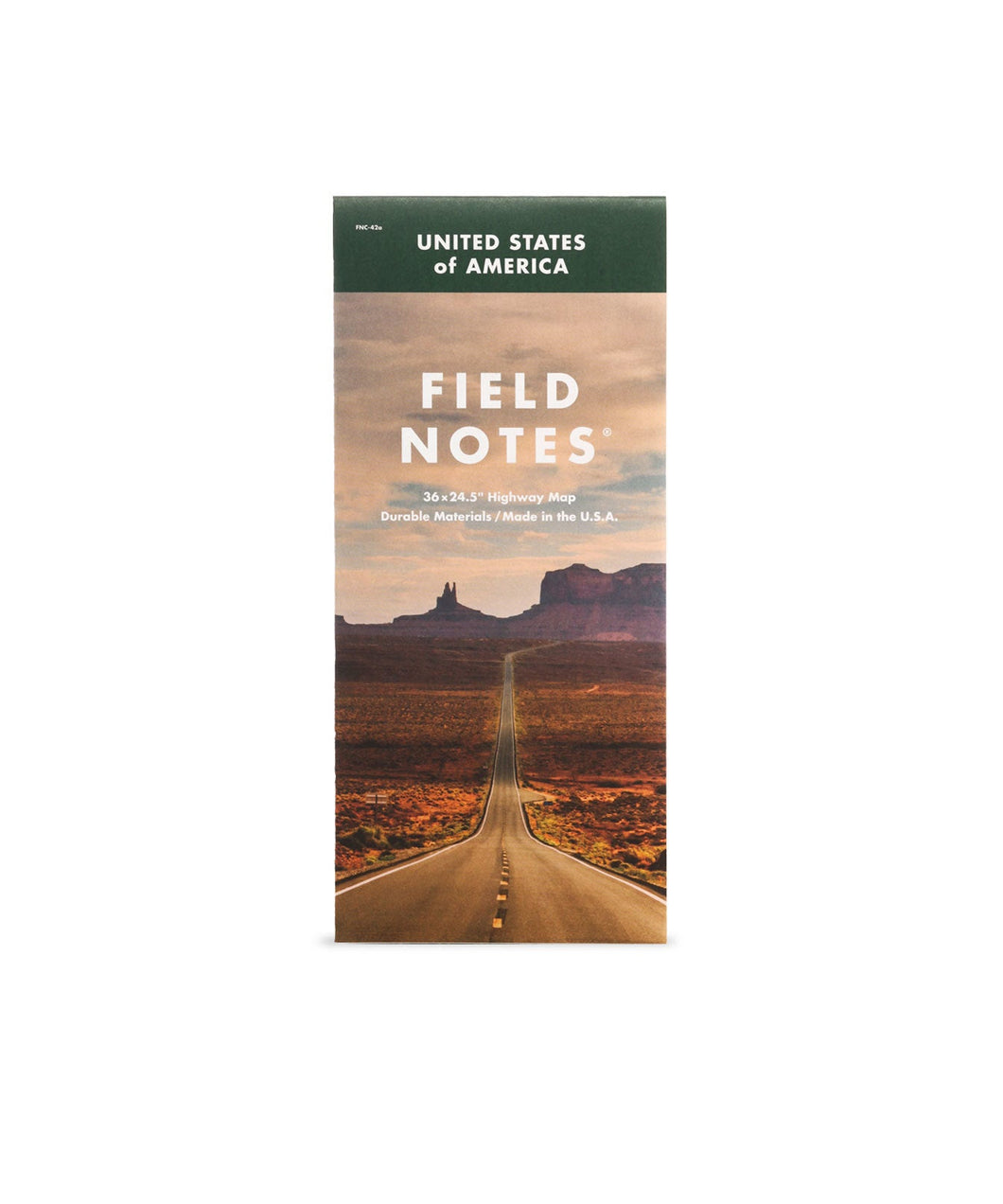 Field Notes - NAT'L Highway Map (foldable)
The National Highway Map is just what every glovebox needs. 
Alongside with Spring release, the "Mile Marker" Edition, a 3-Pack of Memo Books celebrating America's Dwight D. Eisenhower System of Interstate and Defense Highways, ButterScotch is offering an additional item. 
The companion to "Mile Marker" is an old-school gas-station-style, difficult-to-refold-properly, Field Notes National Highway Map. These are available for purchase now, and no self-respecting glove compartment should be without one. 
SPECIFICATIONS:
01.

Proudly printed by the good people of eDOC Communications, Mount Prospect, Ill.

02.

Paper: Lynx Opaque Ultra 50#T "White," with a tightly-registered 4-color application of CMYK process soy-based Toyo inks.

03.

Map printed on a Heidelberg Speedmaster XL 105 40" 6-color printing press.

04.

Map folded on an MBO T102 40" Continuous Feed Folder with Z6 Knife Folding Unit and SAP-66MR Presser Stacker.

05.

Map is highly stylized, not to scale, and should be used only for glove box embellishment, reading material on long road trips, and — in a pinch — very basic wayfinding.

06.

Map dimensions are 3-1/2" × 8" (89mm × 203mm) folded and 36" × 24.5" (914mm x 622mm) unfolded.

07.

FIELD NOTES uses only the Futura typeface family (Paul Renner, 1927) in its materials. Except when we use Century Schoolbook typeface family (Morris Fuller Benton, 1919).

08.

All FIELD NOTES memo books and maps are printed and manufactured in the U.S.A.