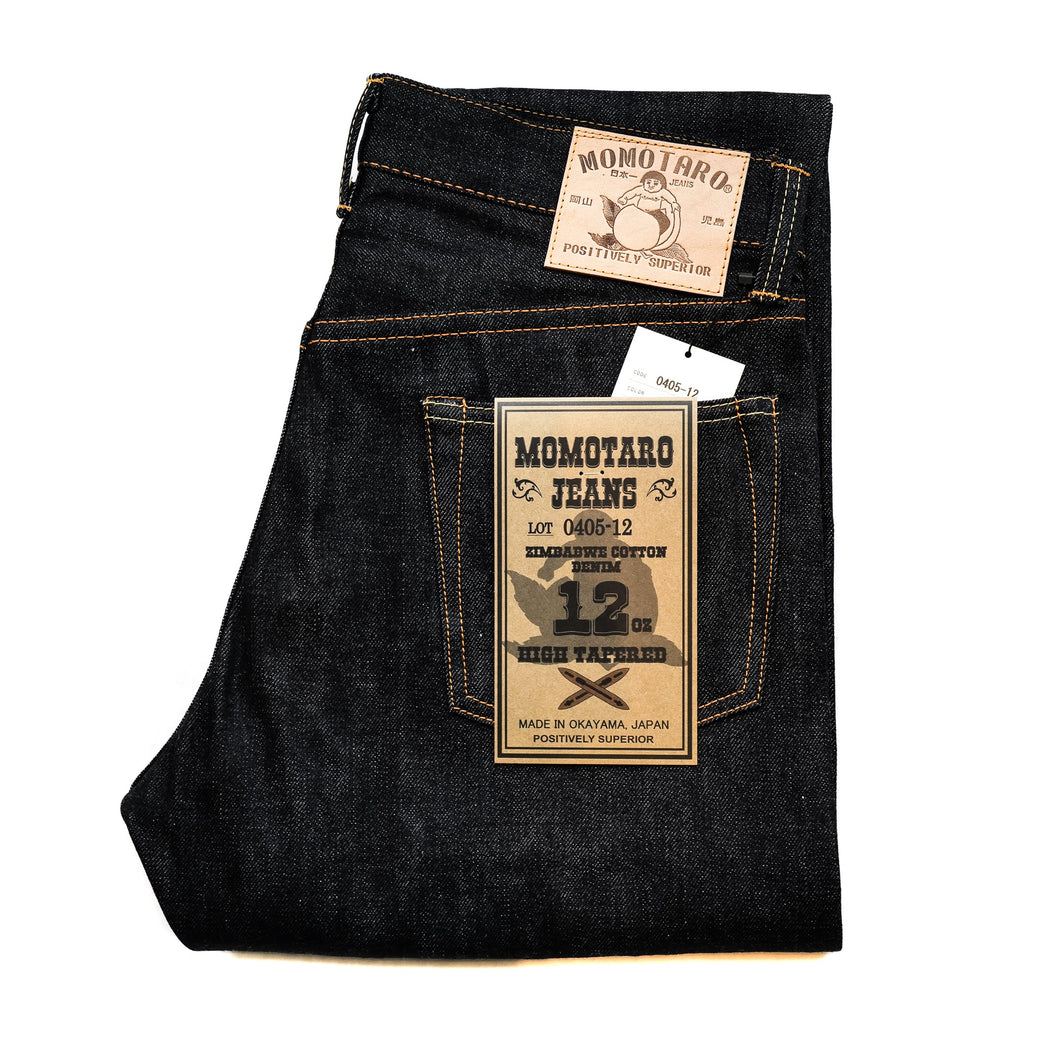 Momotaro - High Tapered - 12oz Selvedge
Regular price $265.00 Sale
 New for Summer 2022, The Momotaro 12oz Selvedge.
The 0405-12 from Momotaro is sewn using a lightweight 12oz Japanese denim fabric, sanforized for immediate wear. Designed as the perfect warm weather jeans, this ultra-wearable indigo denim features classic indigo color that will fade to a vintage blue with wear. Loaded with all the signature Momotaro details including the iconic pink selvedge ticker and pink inseam stitch, both of which serve as an homage to the peach in the original Momotaro folktale.
The "High Tapered" fit from Momotaro is a slim tapered fit with more room than that of the Tight Tapered, specifically in the hip and thigh. The waist is true to size, with a medium rise, slim thighs, and a strong taper from the knee to leg opening throughout the leg.
HIGHLIGHTS
12oz sanforized Japanese denim
Tapered Fit

Pink selvedge, representing the peach from the "Momotaro" folklore story
Pink inseam thread
Custom branded natural leather patch
Custom engraved iron buttons
Filled belt loops
Chain stitched hems and waistband
Hidden back pocket copper rivets
100% cotton
Made in Japan
Style No. 0405-12
SIZING
The High Tapered you size up one from your normal denim. 
| | | | | | | |
| --- | --- | --- | --- | --- | --- | --- |
| Size | Waist | Rise | Thigh | Knee | Inseam | Leg Opening |
| 28 | 28.5" | 9.75" | 10.75" | 7.3" | 34.5" | 5.8" |
| 29 | 29.5" | 10" | 11" | 7.4" | 34.5" | 5.8" |
| 30 | 30.75" | 10.25" | 11.35" | 7.6" | 34.5" | 6.2" |
| 31 | 32" | 10.5" | 11.65" | 7.8" | 34.5" | 6.2" |
| 32 | 33" | 10.5" | 12" | 8.1" | 34.5" | 6.65" |
| 33 | 34" | 10.75" | 12.25" | 8.25" | 34.5" | 7" |
| 34 | 35" | 11" | 12.5" | 8.5" | 34.5" | 7" |
| 35 | 36" | 11.25" | 13" | 8.75" | 34.5" | 7.15" |
| 36 | 37" | 11.5" | 13" | 9" | 34.5" | 7.25" |
| 38 | 38" | 12" | 14" | 9.3" | 34.5" | 7.75" |